Angled Boss Handles – Stainless Steel
The chunky Angled Boss bar handle in Stainless Steel, Handles from the Pronto Kitchens Handle Collection.
To clarify they can compliment any modern kitchen, or to even add a contemporary touch to a traditional kitchen.
In short, a sturdy round bar handle.
Available in 195mm AHANB1 (160mm drilling centres) and 392mm AHANB3 (357mm drilling centres) in length.
In addition, we find that with the two sizes available it really is simple to pick the size required.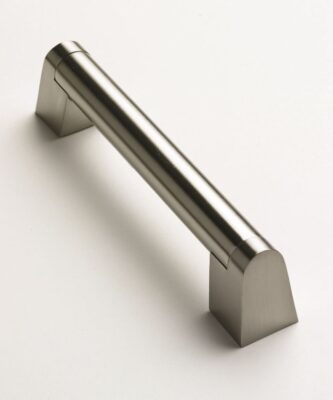 195mm – AHANB1
392mm – AHANB3
Angled Boss Handles, from Pronto Kitchens
Pronto Kitchens are about creating beautiful kitchens your way. So whatever the space, the budget and the aspiration, together we can make it happen.
Your kitchen is a reflection of how you choose to live, so with over 30 years experience we got it!
Reliability
A Pronto kitchen is an investment, therefore it requires a guarantee to match. The dedicated quality control team ensure kitchens reach you in perfect condition and stay that way for years to come, so the ranges come with a 6 year guarantee.
UK Manufactured
In two state-of-the-art factories with a dedicated team, BA have been manufacturing kitchens, doors and components in the UK for over 30 years. To clarify, they are experts in the kitchen industry.
shopkitchensonline offer quality kitchen products at sensible prices. However, more importantly we offer a service that we are proud of.
A kitchen, no matter the budget, is an investment for anybody that makes the decision to buy one. So be it your first time, your ultimate dream kitchen, or a rental property, there is something here for you.

Customers who purchase from shopkitchensonline can expect first class service and quality products. We are always approachable and here to help, regardless of the problem. Can't quiet see what you are looking for, then please contact us.